Springfield Royal Diner 'Real Food, Fast' - OPENS May 6, 2003
with a ribbon cutting ceremony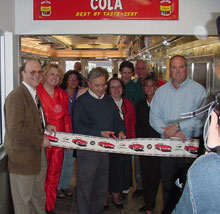 click on the image to the right
to view a larger version
The Royal Diner originally from Kingston NY is reborn in Springfield and opens on May 6th, 2003 in its reincarnation as The Springfield Royal Diner with sweet tunes from the Wurlitzer Jukebox and great homecooked food from the newly renovated and extended diner kitchen.
The opening is marked by a ribbon cutting ceremony assisted by the town officials and Springfield citizens. Customers were already sitting in their booths patiently awaiting for the ribbon to be cut and for the waitresses to start serving the much awaited diner fare. As soon as the ribbon was cut the Wurlitzer jukebox started playing, the waitresses started serving the delicious true diner fare. The cooks had been busily cooking since early morning preparing for the diner's first day.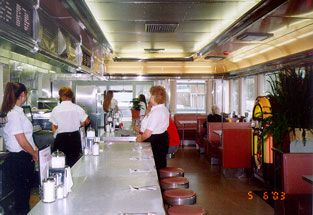 Minutes before the Ribbon Cutting ceremony waitresses take care of last minute details.
The entire team wearing starched, snow white shirts with the Springfield Royal Diner logo is ready for it's first customers. The jukebox is playing 'Remember When..."
The local florist is bringing in several baskets of flowers from local businesses welcoming the much awaited arrival of this vintage diner in historic Springfield, Vermont.