The Diner Manufacturer's History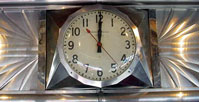 The Springfield Royal Diner is an original O'Mahoney vintage diner.
Jerry O'Mahoney, 1890-1969, is the creator of the Jersey Diner. He sold pork and beans and corned beef hash from horse-drawn lunch wagons in Bayonne,NJ; then later bought stationary cars, which he renamed diners. By 1928 O'Mahoney and his brother, Dan, were among the top three producers of the lunch cars. During the days of the flapper, diner manufacturers such as the Jerry O'Mahoney Company, Kullman, and Silk City deliberately began mimicking the look of railroad dining cars to add a little "class" to their products. Diners dotted the American landscape from the late 19th century and peaked in the 1950s and 1960s.
The diner has always been essentially a blue-collar institution. However, as its customers moved out of their urban neighborhoods and into the suburbs, they left the diner behind. Despite its aura of motion, the diner has always had an ambivalent relationship with the automobile. This is why the Springfield Royal Diner and the Corvette Museum provide for a unique experience. The home of all the five generations of Corvettes, the Corvette Museum is such a perfect match with the 50's style artifact-filled Springfield Royal Diner.
Diners do not emulate 'fast' food, but rather friendly service and good prepared-to-order meals that are fulfilling. Folk don't want to have to dress up. What they expect from these 'come as you are' places is simple, honest, and unpretentious service in a friendly welcoming atmosphere.

Diners are still here because salesmen, UPS drivers, line workers are also still here and feel most at home in a place where they can slide into a booth and trade wisecracks with the counterman or a world-weary waitress, who will listen to them with a smile and an approving nod, as they serve up generous portions of an honest home cooked meal, burgers, bottomless coffee pots all at affordable prices.